As one of the best kids theme parks, the Casino Arcade is jam packed with all of the latest video & redemption games of chance, along with all of the classic slot machines, skee ball and pin ball games.
No matter what your age, you will appreciate the variety of games in our arcade. You can win tickets that are redeemable for great prizes, take a ride on our antique carousel or compete against each other in one on our numerous racing video games.
Call 732.793.6488 x-8220 for more information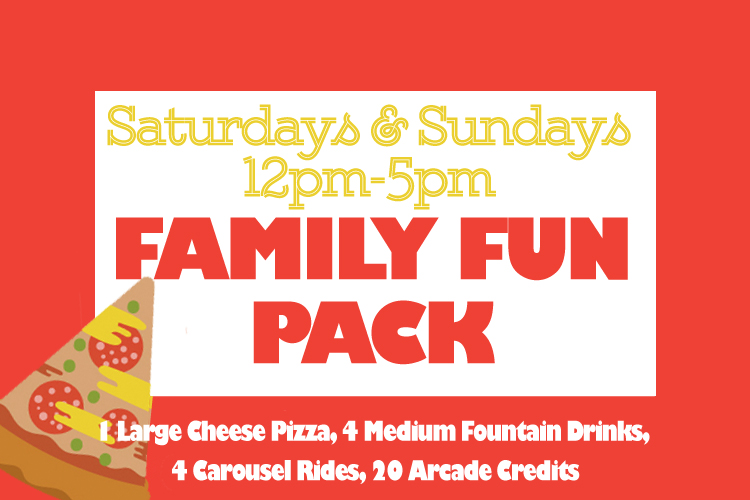 Available Saturdays & Sundays, 12pm -5pm
1 Large Cheese Pizza
4 Medium Fountain Drinks
4 Carousel Rides
20 Arcade Credits
$29.95
Players Club Members
Please note we are not mailing out postcards anymore. Sign up with your email address to be notified about upcoming Players Club Days. Thank you.
Casino Pier boasts one of only two surviving American made classic carousels in the state of New Jersey. Experience the pleasure of riding our rare antique carousel, with colorful hand carved horses lovingly restored!
The Dr. Floyd L. Moreland Historic Dentzel/Looff Carousel at Casino Pier is now over 100 years old!!! A museum piece in itself, it whirls on the Seaside Heights boardwalk bringing delight to young and old alike. The music is provided by the only continuously operating Wurlitzer Military Band Organ in the state.
Come to Casino Pier and enjoy this important piece of Americana as it continues to thrill children of all ages with its sights and sounds!
Height Requirements: 42 min unless with adult
Some key facts about the Carousel:
It moved to Seaside Heights in 1932
Total number of animals: 58
35 moving horses, 18 stationary
2 camels, 1 lion, 1 tiger
Total number of chariots: 2
Total number of lightbulbs: 2016
15 original antique paintings from 1910 in center casing
2 credits or $2.00 for one ride